Events
03
Mar
The Rehab for Kids conference
The Rehab for Kids conference is a national conference organised by the Queensland Paediatric Rehabilitation Service (QPRS), Queensland Children's Hospital, and partnered with the Australasian Cerebral Palsy Clinical Trials Network (AusCP-CTN), to provide the latest information and research relevant to paediatric rehabilitation.
The 3-day virtual conference will include dedicated single streams with various national and international keynote addresses, short multidisciplinary presentations and case reviews, along with research papers. The single-stream sessions will be held online via Zoom.
The program will provide you with opportunities to update skills and knowledge with colleagues involved in the rehabilitation of children with brain injuries, cerebral palsy, spinal cord injury, limb difference and other low incidence conditions.
The conference will showcase Hot Topics in research from the Australasian Cerebral Palsy Clinical Trials Network, including recent advances and issues on some of the work being done to improve early diagnosis and intervention for children with, or at risk of, cerebral palsy. We will highlight the latest research and innovations in early detection, neuroprotection, interventions and their implementation into clinical practice.
You will also have access to a virtual bank of short presentations through the conference website on a variety of topics dedicated to paediatric rehabilitation.
Who can benefit from attending?
Health professionals
Other professionals who work with children who have received rehabilitation
Parents/carers of children who have received rehabilitation
Students
Researchers
Parents/carers of children who have received rehabilitation are invited to register and attend this conference. Some conference content may be limited to health professionals where applicable.
Content and case studies presented at the conference is not intended to replace qualified medical or health related advice. If parents/carers have any concerns or questions arising from the conference in relation to the care for their child, these should be discussed with their QPRS health professional.
Date: 3 March - 5 March
Location: Conference to be held via Zoom videoconference
Register now
More details
01
Mar
Combined AusACPDM and IAACD conference: "Better Together" 2022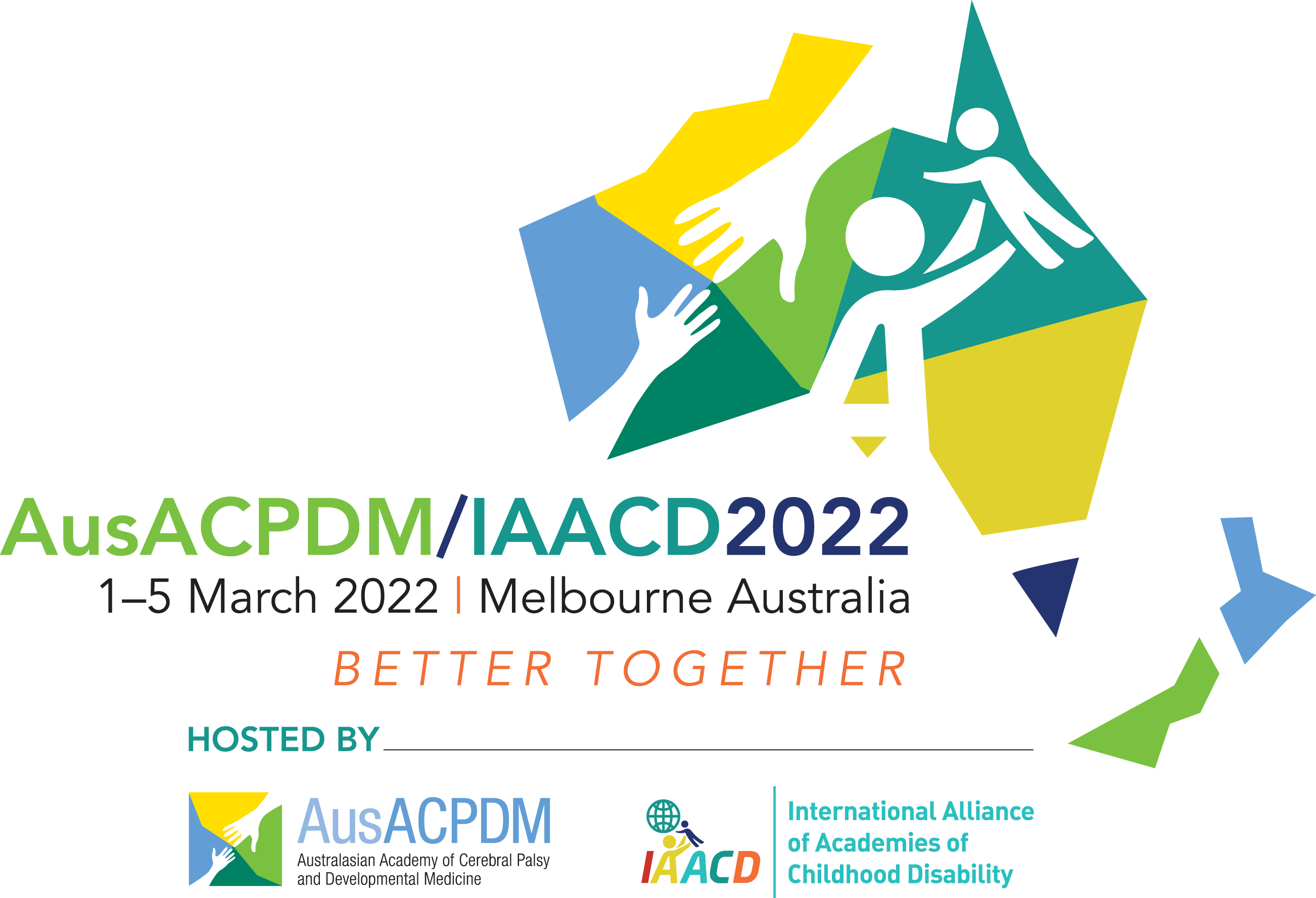 Better Together 
We are pleased to announce that the Combined 11th Australasia Academy of Cerebral Palsy and Developmental Medicine and the 3rd International Alliance of Academies of Childhood Disabilities Conference 'BETTER TOGETHER' (AusACPDM / IAACD 2022) will take place from the 1st to the 5th March 2022 at the Melbourne Convention and Exhibition Centre.
This will be a hybrid conference, so you will be able to attend in person or virtually. 
Visit the official website to learn more.
Visit the Better Together Website
Key Dates
Collaborative International Symposia Call
Open July 2020 
Closes 31st October 2020
Announced January 2021
Free Paper/Poster/Instructional Course
Open February 2021
Close April 2021
Notify August 2021
Registration
Opens March 2021
Early bird closes December 2021
Scholarship Applications
Open February 2021
Close April 2021
Notify August 2021
Late breaking abstracts
Open September 2021
Close December 2021
Notify January 2022
AusACPDM / IAACD 2022 in Melbourne
Pre-conference 28th February, 1st March 2022
Conference dates 2nd March – 5th March, 2022
Join the mailing list if you would like to receive updates and information on the progress of the Conference.
Date: 1 March - 5 March
Location: Melbourne Convention and Exhibition Centre, Victoria
Register now