New Zealand Cerebral Palsy Register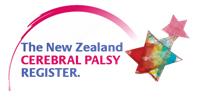 ---
Why have a Cerebral Palsy (CP) Register in New Zealand?
The New Zealand Cerebral Palsy Register (NZCPR) provides a coordinated data collection system that will increase our knowledge of people with CP in New Zealand to help with better planning of health services, compare our practice to overseas experience such as Australia and promote opportunities for research. In 2014, we joined with the well established Australian Cerebral Palsy Register and remain committed to contributing data to the joint Australian Cerebral Palsy Register Report.
How can you participate as a parent, caregiver  or person with CP?
People with Cerebral Palsy and their whānau / families can enrol in a number of ways:
Log on to the Cerebral Palsy website NZCPR Membership to self-register
Contact the New Zealand Cerebral Palsy Register and they can register your details: nzcpregister@adhb.govt.nz
Ask a medical or allied health professional involved in your care to contact us or register you on your behalf
The Patient Information Sheet which has more information about the NZCPR and explains the consent process in detail can be viewed by following this link NZCPR Download Forms.
The NZCPR has full ethical approval from the New Zealand Health and Disability Ethics Committee (13/NTA/130) and information about how we collect, store and protect your information can be found on the NZCPR website .
How can I participate if I am a Health Professional?
If you are interested in becoming a health professional member of the NZCPR, please create a membership login and password via the link NZCPR Membership and a member of the NZCPR team will be in contact to verify your details. Once this has been done you will be able to create new registrations and enter data on your patient's behalf, provided the consent process has been completed.
If you are  a Researcher and are interested in using the NZCPR data for research purposes,  please follow this link to view the requirements NZCPR Research
If you are a health professional and would like to complete an online notification card on behalf of a patient/parent/caregiver, click below: