Update from Developmental Medicine & Child Neurology – Oct 2023
Mac Keith Press October 2023 Highlights
Recent Advances in the Neurological and Neurodevelopmental Impact of HIV – publishing this month!
20% off for AusACPDM members*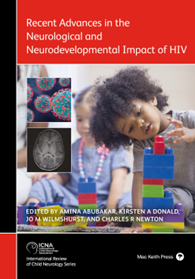 *Simply enter society coupon code when pre-ordering, here:
https://www.mackeith.co.uk/blog/book
Recent Advances in the Neurological and Neurodevelopmental Impact of HIV brings together world-leading experts in the field of HIV to provide new and critical insights into HIV treatment and management for children and adolescents. Those infected with HIV are living longer thanks to antiretroviral drugs, and HIV-related neurological and neurodevelopmental disorders therefore require urgent attention, particularly complications which arise from long-term medication use. The authors summarise key findings in these important areas, as well as gaps in research and implications for paediatric HIV work. Readers will discover ways of optimising the neurological health of children and adolescents living with HIV through better care provision and earlier intervention.
Outlines the important clinical neurological issues facing children and young adults with HIV infection
Presents up-to-date diagnostic and treatment approaches
Provides practical clinical strategies to improve the care of children and adolescents with HIV
An essential resource for all clinicians involved in the care of children and adolescents with HIV and their families, including doctors, paediatricians, psychologists, and other health practitioners and researchers.
An editorial from Associate Editor Karen Horridge looks at the importance of kindness in childhood disability: "To practice kindness is the art of medicine." Wolfgang Grisold and Steven Lewis from the World Federation of Neurology discuss improvement opportunities for patient care and advocacy throughout the lifespan. A Cochrane Corner discusses the rehabilitation implications of the evidence that cognitive behavioral therapy may reduce aggressive behaviors in people with intellectual disability. Authors from Cochrane Rehabilitation mapped the findings of Cochrane systematic reviews on rehabilitation in cerebral palsy. Another systematic review and meta-analysis shows that aerobic exercise improves aerobic capacity, balance, gross motor function, mobility, and participation in children with cerebral palsy. The Editor's Choice for October argues spastic dystonia is dystonia but like spasticity it results from corticospinal tract lesion. The final review of the issue found placebo (and probably nocebo) effects exist in children with autism, and parents' or clinicians' attitudes can sometimes shape outcomes. A cross-sectional experimental study found transcranial magnetic stimulation provides biomarkers for tic severity in children with Tourette syndrome. The next paper suggests recognising four types of developmental coordination disorder may predict outcomes and guide management. A study from Belgium discusses functional mobility in Dravet syndrome and found it is influenced by a number of factors, some of which are remediable. A qualitative study highlights the need for better mental health support for children who had a stroke. Then a prospective study found that low-grade intracranial hemorrhage can affect the development of children born preterm. The next article highlights a self-administrable test which can characterize perception deficits in people with cerebral visual impairment. A study from Denmark asks why would children with cerebral palsy not complete elementary school? Finally, a randomized controlled study explored whether parent massage can alter the brain function of the baby.
Editor in Chief, Bernard Dan's latest editorial looks at neurodevelopmental impairment advantage: "By embracing a multidimensional approach, we can recognize both the challenges and the advantages that exist for individuals with neurodevelopmental impairments." The invited editorial asks: can Asperger syndrome still be a useful diagnosis? An invited review focused on lived experience and identity first language in the context of Tourette syndrome asks is "Tourettic" an acceptable term for those with the condition? The Editor's Choice paper states healthcare professionals must promote and fulfill the human rights of their child patients with disability and help maintain their human dignity. A systematic review found that wheeled mobility interventions are effective in cerebral palsy neurorehabilitation. The final review of the issue indicates that for most adolescents and adults with cerebral palsy classified in GMFCS levels IV–V, physical activity rehabilitation can be safely performed in the community. A study from Norway documented decreased prevalence of dyskinetic cerebral palsy and decreased severity in recent years. There are a lot of lessons to be learned from an epidemiological study of cerebral palsy in Aboriginal and Torres Strait Islander children, which presents good news about decreasing prevalence. The free mobile app HipScreen can enable earlier identification and surveillance of hip dysplasia in children with cerebral palsy. Another study asks: what do children undergoing neurorehabilitation and their caregivers regard as meaningful outcomes? The next study from Australia indicates motor functioning at age 7 may be a useful marker of later attention skills, particularly for children born very preterm. A population-based survey in the UK found children with intellectual disability have higher rates of hospital admissions – their specificities must be taken into account for better care. Finally, many children with Noonan syndrome have behavioral and cognitive features that must be recognized to improve management and quality of life.
New Virtual Issue
Our latest Virtual Issue, Ethics and Philosophy of Neurodevelopmental Conditions, investigates the philosophy and ethics of neurodevelopmental diversity, such as ADHD, autism, and Tourette syndrome, while embracing the importance of first-person perspectives.
The collection is nicely introduced by Leni Van Goidsenhoven & Kristien Hens and contains 12 reviews, seven commentaries, one editorial, and one letter to the editor, many of which are free access.
Read the collection here: https://onlinelibrary.wiley.com/doi/toc/10.1111/(ISSN)1469-8749.Ethics-and-Philosophy-of-Neurodevelopmental-Conditions