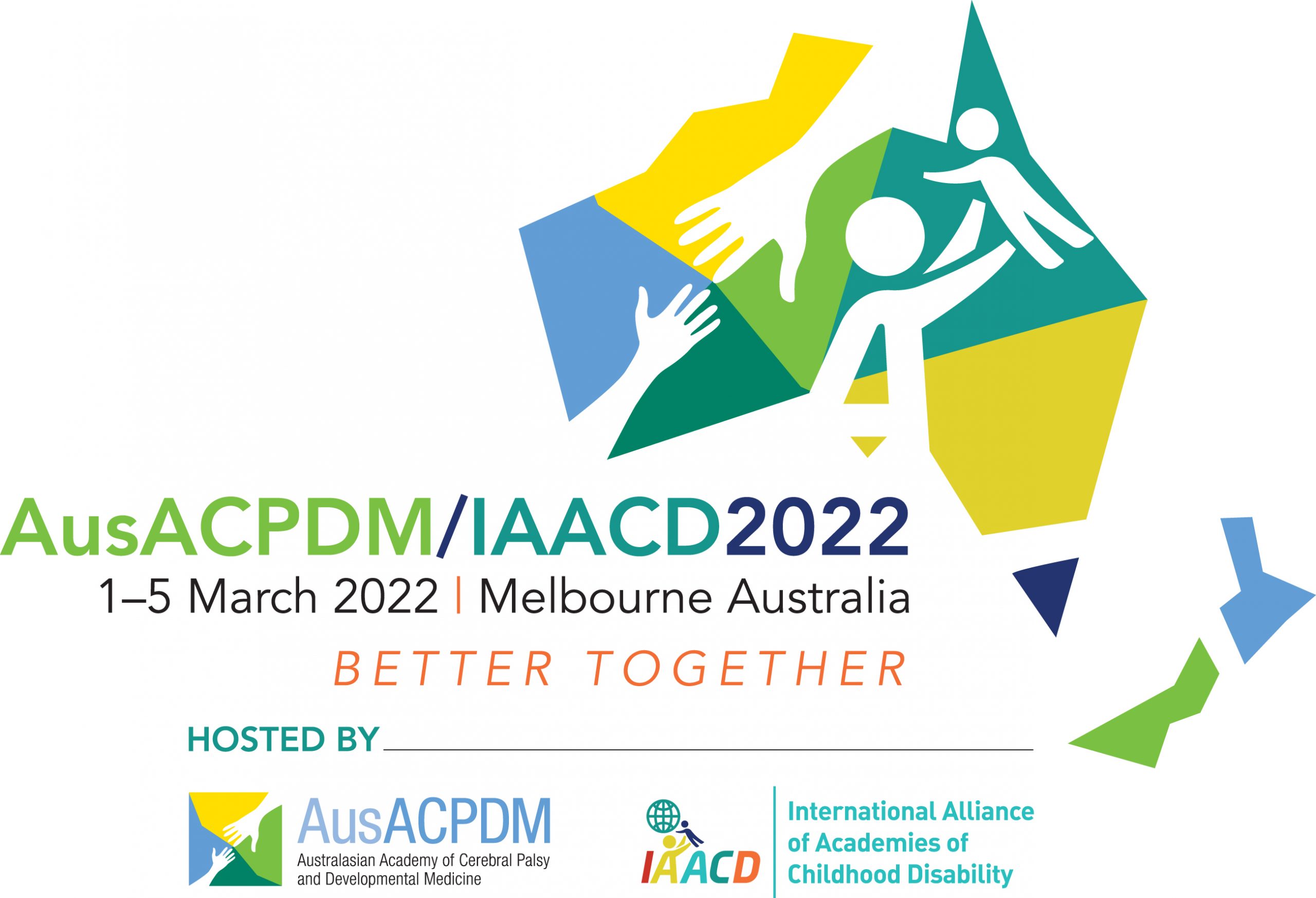 The countdown is now on to the 2022 AusACPDM/IAACD Better Together Conference!
Bringing together clinicians, researchers, people with disability, families, carers, support workers and many others to share knowledge about childhood-onset disability
A fully virtual and accessible conference over four days
More than 100 sessions, including short and long presentations, posters and workshops
Networking and feel good sessions
Early access will be available for some content, and ALL content will be available for three months after the conference!

You are eligible for registration at a Member rate if you are a Member of AusACPDM, or any of the Academy members of the IAACD (this includes AACPDM, EACD, EAACD, Indian ACP, Mexican ACPND, Chinese Association of Rehabilitation Medicine CARM-PRC, SA-Child, and SLAD)
Discounted rates are also available for Students, Low Resource Nations, and Person with Lived Experience.

Download and share the promotional flyer here
---
View the program
It's time to start planning out your schedule! View the full program online or download a pdf. You can also view more details on all of the Interactive sessions (Instructional courses, Seminars and Symposia) here, and Free Paper sessions here.
Don't miss out on the pre-conference workshops: Tuesday the 1st of March
Registrations for these workshops can be added to your full registration for the conference, or they can be registered for as a standalone registration.
View more details on the pre-conference workshops
5th World Cerebral Palsy Register and Surveillance Congress: AEDT Time: 4:00pm – 7:00pm
Sarah McIntyre (Australia), Kate Himmelmann (Sweden), Hayley Smithers Sheedy (Australia), Guro L. Andersen (Norway), Shona Goldsmith (Australia), Michael Shevell (Canada), Gulam Khandaker (Australia/Bangladesh)
+ Invited speakers from around the world – stay tuned!
Physical activity participation for people with disability across the lifespan: shifting to sustaining participation: 1:00 pm – 4:00pm
Prof Jan Willem Gorter, Speakers: Gaela Kilgour, Dr Sian Williams, A/Prof Olaf Verschuren, Dr Sarah Reedman, Prof Nora Shields.
Selective Dorsal Rhizotomy experiences around the world
Dr Nelleke Langerak, Prof Tom Novachek, Dr Marcie Ward, Dr Nico Enslin, Prof Robert Lamberts, Prof Rick Abbott, Dr Kristian Aquilina, Prof Annemieke Buizer, Prof Nobuhito Morota, Dr Xiao Bo, Dr Simon Paget, Meredith Wynter, Jennifer Lewis, Pam Thomason, Dr Neil Wimalasundera
International Genomics: AEDT Time: 8:00am – 12:30pm
Prof Michael Fahey, Prof Michael Kruer, Prof Jozef Gecz, Dr Sarah McIntyre, Ms Yana Wilson, Dr Charles Steward, Prof Gareth Baynam, Dr Clare van Eyk, Prof Zornitza Stark, Prof Nadia Badawi
Improving the Health and Well Being of Adults with Childhood onset Disability: 8:00am – 12:00pm
A/Prof Mark Peterson, Prof Edward Hurvitz, Prof Jan Willem Gorter, Prof Elisabet Rodby-Bousquet, Dr Sarah Reedman, Prof Dinah Reddihough, Ms Sevastine Katsakis, Prof David Coghill, Prof Prue Morgan, Prof Rob Carter, Prof Christine Imms, Professor Nora Shields, Dr Margaret Wallen.
Skeletal Muscle in Cerebral Palsy: AEDT Time: 7:00am – 5:30pm
Prof Richard Lieber, A/Prof Sudarshan Dayanidhi, Dr Tandy Hastings-Ison
What's new in early diagnosis and early intervention: AEDT Time: 8:30am – 1:00pm
Prof Iona Novak, Dr Cathy Morgan, Dr Atul Malhotra, Dr Esther Tantsis, Dr Nathalie Maitre, Dr Sian Williams, Dr Samanmali Summasena, Dr Cathryn Crowle, Dr Vuong Le, Lynda McNamara, Dr Laura Prosser, Prof Anki Eliasson, Dr Reggie Harbourne, Ms Amanda Khamis, A/Prof Leanne Sakzewski, Prof Roslyn Boyd, Prof Alicia Spittle, A/Prof Stacey Dusing
Preclinical and clinical studies: reducing perinatal injury: AEDT Time: 7:00am – 11:30am
Dr Madison Paton, Professor MinYoung Kim, Dr Kylie Crompton, Dr So Yoon Ahn, Dr Megan Finch, Edmonson, Associate Professor Atul Malhotra, Dr Lindsay Zhou, Professor Laura Bennet, Professor Graeme Polglase, Mr Alex Bell
Meet our keynotes
Prof. Hans Forssberg, Sweden
Neuropaediatrics at Astrid Lindgren Children's Hospital in Stockholm, Sweden. He is one of the founders of the International Alliance of Academies of Childhood Disability (IAACD; together with Bob Armstrong and Diane Damiano) and has been its first president. He is past chairman of the European Academy of Childhood Disability; past dean and past vice president of Karolinska Institutet; and past member of the Nobel Committee for Physiology or Medicine.
His research has focused on children with neurodevelopmental disorders; from translational research on mechanisms underlying motor and cognitive dysfunctions, to clinical research aiming at developing new methods for assessment and intervention. During recent years, he has shifted focus to research on global health of children with disabilities, in particular in low and middle income countries (LMIC). He has published around 250 original research articles and is one of the internationally most cited researchers in neurodevelopmental disorders (>30 000 citations; h-index=81; Google Scholar). He is presently leading a UNICEF project developing, implementing and evaluating global recommendations for early identification and intervention for children with developmental delay and disability, particularly in LMIC.
---
Prof. Petra S. Hüppi, Switzerland
Prof. Petra Susan Hüppi is Professor of Paediatrics and Director of the Division of Child Development and Growth at the Geneva University Hospitals, Switzerland. She is currently the Vice-dean of the Medical Faculty of the University of Geneva and member of the board of trustees of the University of Zurich. She also directs the ChildLab at the Campus Biotech of the University of Geneva, Switzerland.
Trained as a clinician in pediatrics, specialist in newborn medicine and developmental pediatrics, her research is focused on the study of the developing brain, the application of magnetic resonance (MR) techniques to relate brain structure and function to the neurodevelopmental outcome of high risk newborns. She has international research activities with a visiting scientist position at Harvard Medical School in Boston, USA. She has directed numerous research projects both at Harvard Medical School and the University of Geneva, aimed at the better understanding of early human brain development both from a nature and nurture perspective. Her research has helped in a major way to understand the specific brain deficits found in prematurely born children, highly relevant for the cognitive and socio-emotional development of children and adolescents.
Her international status is further documented through her various commitments in major scientific societies and organizations. Currently she serves as a Vice president of the European Society for Pediatric Research, is honorary Fellow of the International Society for Magnetic Resonance in Medicine (ISMRM). In order to join forces to study scientifically both the care and medical interventions on children's long-term development, she founded the European association for developmental care.
---
Prof. Gulam Khandaker, Australia
Prof Khandaker is recognized nationally and internationally for his work in public health and international childhood disability research. He was trained in Paediatrics and Public Health Medicine at the Children's Hospital at Westmead and National Centre for Immunisation Research and Surveillance (NCIRS). His current position is Director of Public Health and Director of Medical Research for the Central Queensland Hospital and Health Service. He established a population-based register for children with cerebral palsy (CP) in Bangladesh and is now leading an international multi-centre register of children with CP in low and middle-income countries (Global LMIC CP Register: GLM-CPR) in collaboration with over 30 organizations from 10 in low and middle-income countries in Asia, Africa and South America. Prof Khandaker has research collaborations in Australia, Bangladesh, Indonesia, Nepal, Sri Lanka, Vietnam, Zimbabwe, Ghana, Suriname and Saudi Arabia.
---
Prof. Sue Kildea, Australia
Co-Director of The Molly Wardaguga Research Centre, Professor Sue Kildea is internationally recognised as a midwifery leader at the cutting edge of Indigenous maternal and infant health and Birthing on Country Service design. She has strong links with Indigenous researchers and Aboriginal and Torres Strait Islander Community Controlled Health Organisations across the country, built across a 35-year career in clinical, research, education and policy. Since her PhD in 2005, she has maintained a 0.2-0.6FTE clinical load and has had a steep upwards research trajectory, ranked 13th most active researcher worldwide (2012- 17) in Maternity and Midwifery. She has supervised 20 HDR students and currently mentors 8 Early Career Researchers. She is a Chief Investigator on 5 NHMRC Grants (3 as CIA), 1 CIHR grant ($1.8M) and a NIH grant ($2M). Received 54 grants with direct responsibility for $9.1M of the $23.2M awarded, plus $6M for service delivery. Authored 178 publications and 46 keynote addresses. She won Research Australia's Health services Research Award in 2018. Sue is passionate about the year before and after birth and see these as the best times to positively impact Mums, bubs and families for the best start in life. She uses research for social change and leads multi-site projects across Australia.
---
Prof. Gillian King, Canada
Gillian King is a Distinguished Senior Scientist (Bloorview Research Institute), Professor in the Department of Occupational Science and Occupational Therapy (University of Toronto), and Canada Research Chair in Optimal Care for Children with Disabilities (Tier 1). She has held over 100 peer-reviewed grants, authored over 200 peer-reviewed articles, and has developed and published over 20 measures for use in pediatric rehabilitation. Her work focuses on psychosocial aspects of care, including the delivery of health services, client engagement, family-centred care, client and family resiliency, and transition programming. Her current research focuses on measures of client, parent, and therapist engagement in service delivery, the key elements and processes underlying the effectiveness of youth transition programs, mental health and the participation of children and youth with disabilities, solution-focused coaching, and the role of resiliency in rehabilitation service delivery.
---
Prof. Rick Lieber, USA
Rick Lieber is a physiologist who earned his Ph.D. in Biophysics from U.C. Davis developing a theory of light diffraction that was applied to mechanical studies of single muscle cells. He joined the faculty at the University of California, San Diego in 1985 where he spent the first 30+ years of his academic career, achieving the rank of Professor and Vice-Chair of the Department of Orthopaedic Surgery. He received his M.B.A. in 2013 and is currently Chief Scientific Officer and Senior Vice President at the Shirley Ryan AbilityLab and Professor of Physical Medicine & Rehabilitation and Biomedical Engineering at Northwestern University in Chicago, IL.
Dr. Lieber's work in intentionally translational, applying basic scientific principles to help patients who have experienced spinal cord injury, stroke, musculoskeletal trauma or cerebral palsy. He has published almost 300 articles in journals ranging from the very basic such as The Biophysical Journal and The Journal of Cell Biology to clinical journals such as The Journal of Hand Surgery and Clinical Orthopaedics and Related Research. Dr. Lieber's research focuses on design and plasticity of skeletal muscle. Currently, he is developing state-of-the-art biological and biophysical approaches to understanding muscle contractures that result from cerebral palsy, stroke and spinal cord injury.
---
Prof. Susan Michie, United Kingdom
Susan Michie, FMedSci, FAcSS is Professor of Health Psychology and Director of the Centre for Behaviour Change at University College London. She is co-Director of NIHR's Behavioural Science Policy Research Unit, leads UCL's membership of NIHR's School of Public Health Research and is an NIHR Senior Investigator.
Professor Michie's research focuses on behaviour change in relation to health and the environment: how to understand it theoretically and apply theory to intervention development, evaluation and implementation. Her research, collaborating with disciplines such as information science, environmental science, computer science and medicine, covers population, organisational and individual level interventions. Examples include the Human Behaviour-Change Project and Complex Systems for Sustainability and Health. She is an investigator on three Covid-19 research projects.
She serves as an expert advisor on the UK's Scientific Pandemic Influenza Group on Behavioural Science (Covid-19) and is a member of WHO's Behavioural Insights Technical Advisory Group. She is also expert advisor to Public Health England and the UK Department of Health and Social Care, is Chair of the UK Food Standard Agency's Social Sciences Advisory Committee and chaired the Academy of Social Science's 'Health of People' project.
---
Prof. Suzanne Miller, Australia
Professor Suzie Miller's training and expertise is in neurodevelopmental physiology. Suzie is an NHMRC Senior Research Fellow (Level B), Deputy Director of The Ritchie Centre at Monash University and the Hudson Institute of Medical Research, and she leads the Neurodevelopment Theme at the Centre. Her research group predominately uses experimental animal models of the primary causes of neonatal brain injury – including intrauterine infection, preterm birth, fetal growth restriction, and perinatal asphyxia – to better understand the progression of neuropathology under compromised conditions, so that targeted interventions can be implemented. Suzie and her clinical and research colleagues are working towards the translation of neuroprotective therapies before or after birth, so that neonatal brain injury can be reduced, and cerebral palsy might be prevented. An example of the translation of positive preclinical results through to clinical trial is evident in the current PROTECT-ME trial of antenatal melatonin for pregnancies complicated by fetal growth restriction; Suzie led the preclinical work to show that melatonin acts as a strong neuroprotective agent for the developing fetal brain, predominantly via melatonin's anti-oxidant and anti-inflammatory effects. This international trial is currently recruiting and we keenly await results.
---
Dr Steve O'Flaherty, Australia
Dr Steve O'Flaherty is a Rehabilitation Paediatrician who has worked with children for over 50 years. Originally from New Zealand he completed consultant training at Sydney Children's Hospital and then worked as the community Paediatrician for western Sydney. From the late 1980s he was head of the Paediatric Rehabilitation department at Westmead Hospital until 1995 when all Paediatric services moved to the Children's Hospital at Westmead where he was the inaugural head of Paediatric Rehabilitation (Kids Rehab) for 17 years. He oversaw the introduction in Australia of training of Paediatric advanced trainees in Paediatric Rehabilitation. This avoided the previous need to travel overseas for training. Such training is now offered in all Paediatric Rehab services around Australia. From this a cohort of trained consultants has developed and has facilitated the staffing of units in Australia and NZ. Amongst other things and with his colleagues he oversaw the introduction at Kids Rehab of Botulinum Toxin, Intrathecal Baclofen, Selective Dorsal Rhisotomy and Deep Brain Stimulation treatment options for managing movement disability especially in children with CP and he was part of the team that facilitated relocation of the Paediatric Gait Lab to CHW. He continues clinical work with children with CP as a senior Staff Specialist in Paediatric Rehabilitation at Sydney Children's Hospital.
---
Dr Rupal Patel, USA
Rupal is the Founder and CEO of VocaliD, a voice technology company that provides AI-generated voices with personality. VocaliD's award-winning technology leverages the latest advances in machine learning, signal processing and voice analytics along with the company's crowdsourced Voicebank to create inclusive, diverse and brand aligned voices for organizations and individuals with special needs. Rupal began her career as a speech clinician where she became fascinated with the potential of using speech technologies for assistive communication which then led to a doctorate in speech science. Her interdisciplinary research applies empirical evidence about speech motor control to develop novel communication technologies. She is currently on leave from Northeastern University where she is a tenured professor in Bouve College of Health Sciences and The Khoury College of Computer Sciences. A Health Innovation Fellow of the Aspen Institute, Rupal was named one of The Top 11 Visionaries in Voice 2019 by Voicebot.ai and Fast Company's 100 Most Creative People in Business. Rupal has also been featured on TED, NPR, and in major international news and technology publications around the world.
---
A/Prof. Mark Peterson, USA
Mark D. Peterson is the Charles E. Lytle, Jr. Research Professor at the University of Michigan-Medicine (Ann Arbor, Michigan, U.S.), Department of Physical Medicine and Rehabilitation, a Fulbright Scholar, and an active member in the American Academy of Cerebral Palsy and Developmental Medicine (AACPDM), Australasian Academy of Cerebral Palsy and Developmental Medicine (AusACPDM), the International Society of Physical and Rehabilitation Medicine (ISPRM), and the American College of Sports Medicine (ACSM). Dr. Peterson's work focuses on understanding factors that influence health and life expectancy among individuals aging with disabilities across the lifespan. This includes efforts directed at identifying precision strategies to prevent cardiometabolic dysregulation and secondary physical and psychological morbidity among children and adults with cerebral palsy, as well as a variety of frailty syndromes, and to better understand health disparities among individuals with disabilities from the context of access to preventive care and community wellness. Dr. Peterson has published more than 150 peer reviewed scientific articles in the fields of exercise physiology, rehabilitation research, physical activity epidemiology, healthcare disparities, and preventive medicine.
---
A/Prof. Yvette Roe, Australia
Co-Director of The Molly Wardaguga Research Centre, Professor Yvette Roe is a proud Njikena Jawuru woman from the West Kimberley region, Western Australia. Yvette grew up in Darwin where she has strong family and friend connections. Yvette has more than 25 years' experience working in the Indigenous health. She was awarded her PhD, in 2015. As an Aboriginal scholar, Yvette's research and priority has been to identify opportunities to improve health outcomes for First Nations peoples by delivering and evaluating services that are client, family and community focused. Yvette has diverse interests across a number of disciplines such as public health, sociology, and realist evaluation. She is a CI/AI on 5 NHMRC and Lowitja Institute grants and leading research across multiple sites in Australia to build First Nations people research capacity. She is a member of the NHMRC Research Committee (2018-2021) and Principal Committee Indigenous Caucus (2016- 21) an advisory body for the NHMRC Council and CEO on First Nation health research and implementation of NHMRC Roadmap II. She provides Indigenous leadership across all of the studies in the Molly Wardaguga Research Centre.
---
Prof. Tom Shakespeare, United Kingdom
Tom Shakespeare trained at Cambridge University, and has worked at Sunderland, Leeds, Newcastle, University of East Anglia and London School of Hygiene and Tropical Medicine, where he is professor of disability research. He has conducted research on disability and sexuality, with disabled children, on bioethics, on restricted growth, on independent living, on rehabilitation, on inclusive education and on employment of disabled people. He also spent five years in the WHO Disability and rehabilitation team. His books include Disability Rights and Wrongs and Disability – the Basics. He broadcasts regularly on BBC Radio.
Visit the Better Together Website for updates and more information.
https://bettertogether2022.org