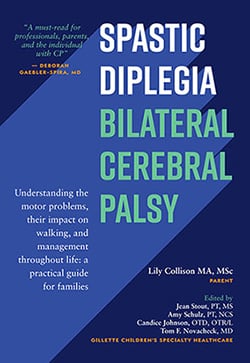 Spastic Diplegia–Bilateral Cerebral Palsy: "A Must-Read for Professionals, Parents, and the Individual with CP"
A new book by  Lily Collinson (published by Gillette Children's Healthcare Press in 2020) aims  to provide information that is  accessible to families with an in-depth understanding of how spastic diplegia develops over the lifespan and the current evidence-based, best-practice treatments.
The book empowers parents of young children, and adolescents and adults with the condition, to become better advocates and co–decision makers in the medical process. The focus of this optimistic, yet practical book is on maximizing activity and participation–living life to its fullest. Health care professionals, educators, students, and extended family members will also benefit from reading this book. Indeed, much of what is addressed applies in general to spastic CP at GMFCS levels I to III. Written by Lily Collison (parent of son with CP, with a science background) in collaboration with medical staff at Gillette Children's Specialty Healthcare, the book is available on Amazon Australia, Booktopia and ebook platforms. All proceeds from this book go to CP research
To read more on how to purchase a copy  and to watch the inspiring interview go to Gillette Children's Healthcare Press webpage.
The summary of this publication has been endorsed for promotion on AusACPDM website. Please note the full content of this book has not been reviewed by the Scientific Education Committee.