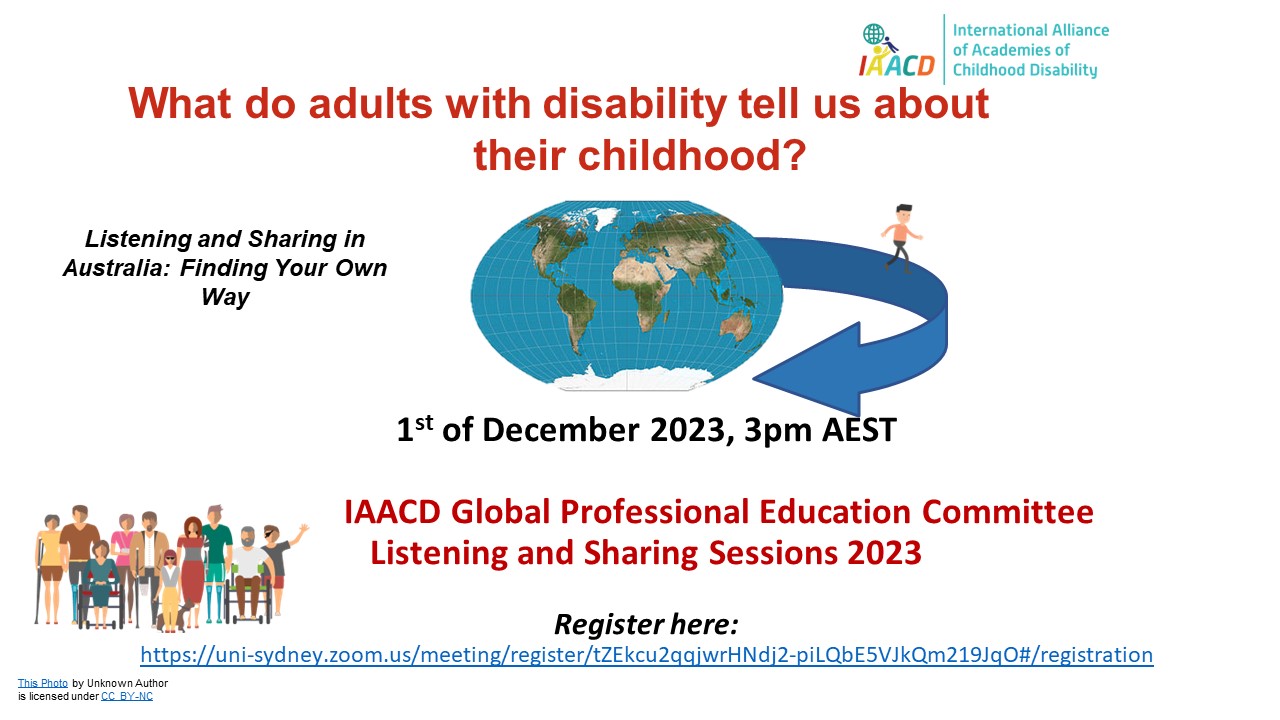 Global Listening and Sharing sessions on International Day of Person with Disability
To celebrate International Day of Person with Disability the International Alliance of Academies of Childhood Disability are hosting Listeninig and Sharing Sessions across the world to talk about the theme: "What can adults with disability tell us about their childhood?"
We would love for you to join us – everyone is welcome to come listen and share!
Join our Australian session: "Finding your own way"
We will be hearing from adults with lived experience reflect on what it is like to grow up in Australia with a disability– the good times, the funny times, and all the learnings along the way! Facilitator Georgie Henry will be joined by an impressive panel line-up including disability activist Robyne Burridge OAM, advocate and actor Hannah Diviney and PhD candidate Shandele Pascoe.
Time and date: Friday 1st December 3pm (Australian Eastern Standard time) (4pm EDST)
Location: Zoom
Register here: https://uni-sydney.zoom.us/meeting/register/tZEkcu2qqjwrHNdj2-piLQbE5VJkQm219JqO 

Join our New Zealand session: "Experiences of Adulthood & Disability in Aotearoa New Zealand"
Facilitating the New Zealand panel will be Amy Hogan, a dedicated advocate and academic. Joining her are panellists, each bringing their own expertise and experiences to the conversation. Barry De Geest, a visionary entrepreneur, policy designer, and disability activist, will share his insights. Youth Advocate and Cerebral Palsy Society of New Zealand Programme Coordinator Renata Kotua will offer a valuable perspective on navigating systems and advocating for change. Helena Chan, a passionate advocate for the strength-based model, will shed light on important topics such as employment and system navigation.
Time and date: Friday 1st December 4pm (New Zealand Daylight savings time)
Location: Zoom
Register here: https://us02web.zoom.us/j/81690052788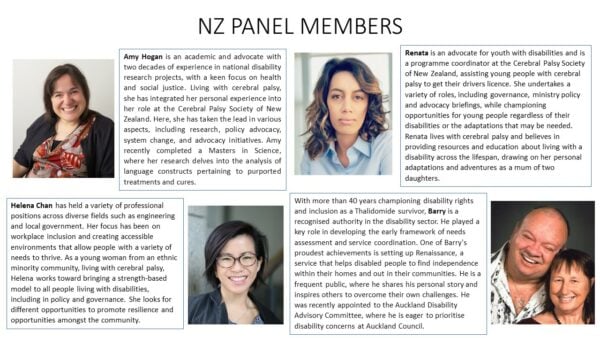 The full list of sessions from across the globe can be downloaded here.