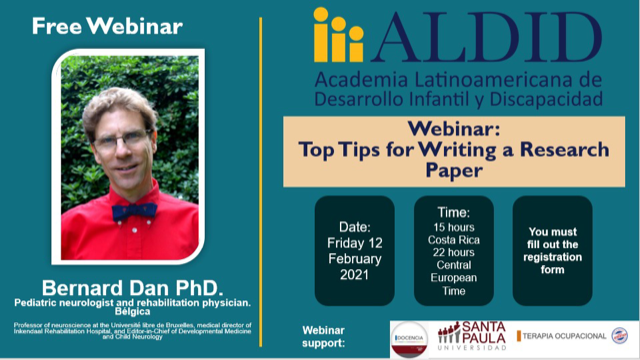 Free Webinar on Writing a Research Paper (by Dr. Bernard Dan)
The Latin American Academy of Child Development and Disability (ALDID) invite you to a free Webinar, presented by Dr Bernard Dan, on Writing a Research Paper.
The event is to be held on Febuary 12th, 2021, check timezone upon registration
About the presenter
Bernard Dan is a paediatric neurologist and rehabilitation physician based in Brussels. He is professor of neuroscience at the Université libre de Bruxelles, medical director of Inkendaal Rehabilitation Hospital, and Editor-in-Chief of Developmental Medicine and Child Neurology. His clinical and research interest includes cerebral palsy, neurogenetic conditions and neurophysiology. He was the 2010 president of the EACD and chaired the scientific committee of the academy until last year. He wrote over 250 articles in top-ranking journals, textbooks on Angelman syndrome, childhood disability, and co-edited a major reference book on cerebral palsy and one on ethics in childhood neurodisability. He served as scientific curator for several art exhibitions relating to disability and authored novels and short stories.