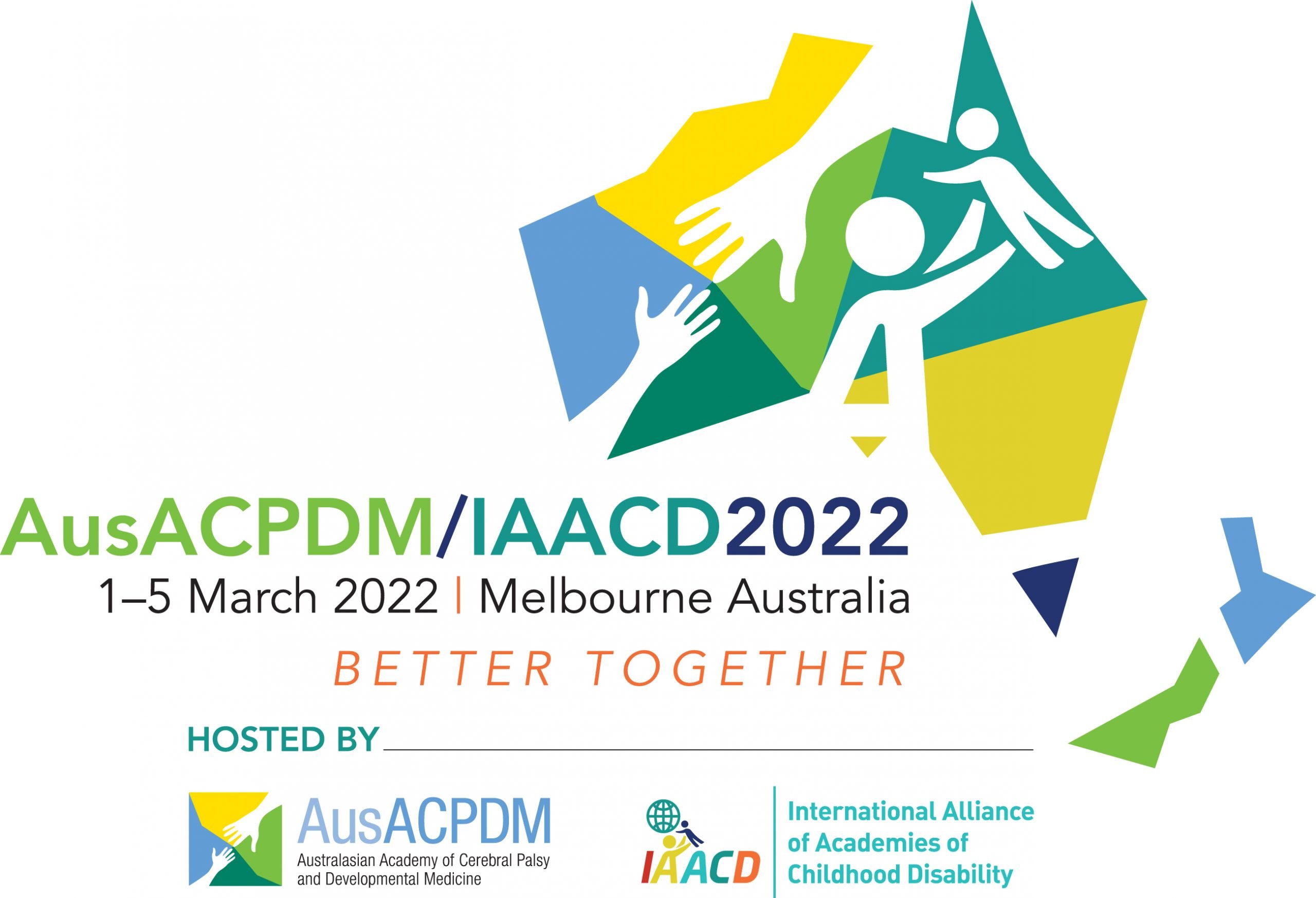 AusACPDM & IAACD 2022 Conference
The Combined 11th Australasia Academy of Cerebral Palsy and Developmental Medicine and the 3rd International Alliance of Academies of Childhood Disabilities Conference 'BETTER TOGETHER' (AusACPDM / IAACD 2022) will take place from the 1st to the 5th March 2022 at the Melbourne Convention and Exhibition Centre. This will be a hybrid conference, presenters can plan to attend in person or virtually
Submissions for abstracts for Focused Symposia and Current Debates/Controversies are now closed, with outcomes to be announced in January 2021. Future calls will be made for scientific free papers, posters, instructional courses, breakfasts, PhD platforms and other presentation types in February 2021.
Submissions are welcomed over a wide range of conditions and themes;
Conditions
Acquired brain injury
Autism Spectrum Disorder
Cerebral palsy
Cerebral visual impairment
Chromosomal disorders
Neonatal Brachial Plexus palsy
Neuromuscular disorders
Spinal Bifida
Spinal cord injury and disease
Other
Themes
Adults and transitional care
Aetiology, epidemiology and causal mechanisms
Care in lower resource settings
Clinical Practice Guidelines, Care Pathways
Cognitive rehabilitation
Communication and assistive devices
Consumer engagement, social policy and service delivery
Disability management during a pandemic / disaster
Early detection, neonatal care and early interventions
Family/caregiver health and wellbeing
Genomics
Indigenous and First Nations people and disability
Intensive motor interventions
Knowledge translation and implementation
Living and planning for pandemics and disasters
Mental health and wellbeing
Movement disorders and Hypertonia/hypotonia management
Neuroscience and neuroimaging
New technologies, innovations and robotics
Nutrition, diet, feeding and oropharyngeal dysphagia
Orthopaedics, muscle and bone health
Pain
Participation
Physical activity, fitness and sports/leisure
Physical rehabilitation/ habilitation
Preclinical studies, neuroprotection, prevention & neural repair
Sleep
Telehealth
Vision
Other
We engage multi-centre, multi-country submissions from both high and low resource settings. We welcome in-person, virtual and hybrid presentations. This does not need to be specified at the time of your submission.