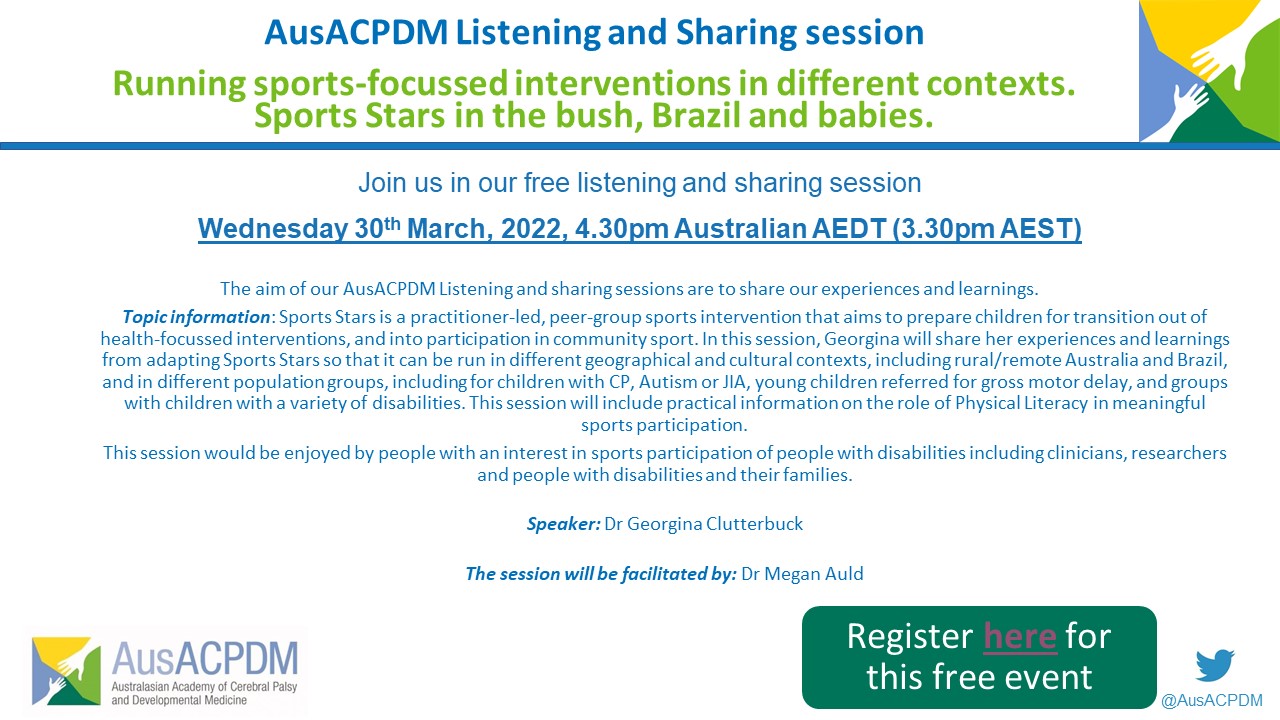 30th March Listening and Sharing session
"Running sports-focussed interventions in different contexts. Sports Stars in the bush, Brazil and babies."
Join us in our free listening and sharing session.
Wednesday 30th March 2022 4.30pm to 5.00pm Australian DST/ 3.30pm Australian EST
Topic information: 
Sports Stars is a practitioner-led, peer-group sports intervention that aims to prepare children for transition out of health-focussed interventions, and into participation in community sport. In this session, Georgina will share her experiences and learnings from adapting Sports Stars so that it can be run in different geographical and cultural contexts, including rural/remote Australia and Brazil, and in different population groups, including for children with CP, Autism or JIA, young children referred for gross motor delay, and groups with children with a variety of disabilities. This session will include practical information on the role of Physical Literacy in meaningful sports participation.
This session would be enjoyed by people with an interest in sports participation of people with disabilities including clinicians, researchers and people with disabilities and their families.
Speakers: Dr Georgina Clutterbuck
The session will be facilitated by:  Dr Megan Auld
The aim of our AusACPDM Listening and sharing sessions are to share knowledge, experiences and learnings. These will be held via zoom, and will be open to everyone (but registration numbers are limited!). Recordings of some of our sessions will be made available within the members only section of the AusACPDM website at a later date.
Download and share the Flyer.
After registering, you will receive a confirmation email containing information about joining the meeting.