Health Care Professionals
Global COVID-19 Childhood Disability Tips for Organising and Conducting Listening and Sharing Sessions
What is a "listening and sharing" session?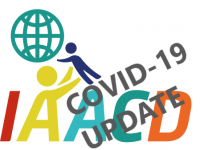 "Listening and sharing sessions" are a way to promote open and honest communication across a group of people and provide useful information for taking action. The main emphasis of a listening and sharing session is to share experiences, and to do this we need to listen to a range of perspectives. Listening and sharing sessions are not webinars (which are usually educational like a lecture).
The guide on organising and conducting "Listen and Sharing Sessions" has been created by the Global COVID-19 Childhood Disability "Listening and Sharing committee". We are a collaborative initiative of the International Alliance of Academies of Childhood Disability (IAACD), hoping to assist both professionals and consumers in hosting their own listening and sharing sessions.
We welcome input from families, children, clinicians and researchers. Please feel free to email any suggestions to add to this tip sheet to aspittle@unimelb.edu.au
---
The good, the bad, and the ugly of telehealth from a parents perspective
Thank you to Jessica and Tim for sharing their recording (and insights) of their perspective of telehealth. This recording was originally developed for the eHealth Paediatric Summit – an online event for Pediatric therapists doing rehabilitation in a digital space, bringing them up to date with the best evidence and most innovative clinical strategies in Telehealth for pediatric therapists.
---
Human Rights and Children with Disabilities
& 
COVID-19
Invited Editorial published in the journal of Developmental Medicine and Child Neurology: The human rights of children with disabilities during health emergencies: the challenge of COVID‐19 https://onlinelibrary.wiley.com/doi/10.1111/dmcn.14526
View the Vodcast here discussing the editorial here.

•       Invited editorial Human rights of children with disabilities in Spanish https://onlinelibrary.wiley.com/doi/10.1111/dmcn.14529
•       Podcast in Spanish (with Portuguese subtitles) https://youtu.be/qIOr9xSB7RQ
Animations explaining what COVID-19 is to children with and without disabilities – from the children's perspective
Also available in Spanish https://youtu.be/KuaH5ZYXevM
WHO disability during COVID-19 & children with disabilities
Also available in Spanish https://youtu.be/wUMZ4uk2674
---
Occupational Therapy Australia Telehealth resources

Including Guidelines, a checklist, a Consent Form Template, and information on billing
https://www.otaus.com.au/member-resources/covid-19/telehealth 
---
More than isolated: The experience of children and young people with disability and their families during the COVID-19 pandemic
This resource provides a comprehensive summary of findings by a survey conducted by Children and Young People with Disability Australia (CYDA) of almost 700 responders on  "The experience of children and young people with disability and their families during the COVID-19 pandemic"
Dickinson, H., Yates, S. (2020) More than isolated: The experience of children and young people with disability and their families during the COVID-19 pandemic. Report prepared for Children and Young People with Disability Australia (CYDA), Melbourne
---
Mental Health: evidence based online resources, helplines, and apps

If you, or someone you are with is in immediate danger please call: 000 (Australia) or 111 (New Zealand) 


Helpful Mental Health Websites Apps for Adolescents

Name
About
Phone
Online
Kids Help Line
For anyone 25 or under – Kids Helpline is a free, private and confidential 24/7 phone and online counselling service for young people aged 5 to 25.
1800 55 1800
24/7
Kids Help Line
Lifeline
For all ages – 24-hour crisis support telephone service. Lifeline provides 24/7 crisis support and suicide prevention services.
CALL: 13 11 14 24/7 TEXT: 0477 131 114
6:00PM – Midnight
Lifeline
Suicide Call Back Service
A nationwide service that provides 24/7 telephone and online counselling to people who are affected by suicide, experiencing thoughts of self-harm or suicide.
1300 659 467
24/7
Suicide Call Back Service
Youth Beyond Blue
Beyond Blue provides information and support to help everyone in Australia achieve their best possible mental health, whatever their age and wherever they live.
1300 22 4636
24/7
Youth Beyond Blue
SANE Australia
SANE Australia supports people living with complex mental health issues and the people that care about them.
1800 187 263
10:00AM – 10:00PM
SANE Australia
Headspace
eheadspace provides free online and telephone support and counselling to young people 12 – 25 and their families and friends.
N/A
Headspace
QLife
QLife provides anonymous and free LGBTI support for people wanting to talking about sexuality, identity, gender, bodies, feelings or relationships.
1800 184 527
3PM – Midnight
QLife
1800 RESPECT
Confidential information, counselling and support service, open 24 hours to support people impacted by sexual assault, domestic or family violence and abuse.
1800 737 732
24/7
Interpreter: 13 14 50
1800 RESPECT
Carers NSW
Carer Line offer emotional support, referrals and distribute carer specific resources and information to carers and community members.
1800 242 636
9AM – 5PM
Monday – Friday
Carers NSW
Parent Helpline
A telephone counselling, information and referral service for parents of children ages 0 -18.
1300 1300 52
Parent Helpline
Mental Health Line
A mental health professional will answer your call about mental health concerns for you or someone you are concerned about.
1800 011 511
24/7
Mental Health Line




| | | |
| --- | --- | --- |
| Name | About | Website |
| ReachOut | Our mission is to deliver innovative e-mental health services that enable young people to take control of their mental health and wellbeing. | ReachOut |
| Black Dog Institute | Primary areas of mental health research and treatment include: depression, bipolar disorder, post-traumatic stress disorder, anxiety, adolescents and young people, suicide prevention, e-mental health, positive psychology and wellbeing. | Black Dog Institute |




| | | |
| --- | --- | --- |
| Name | About | Cost |
| Calm Harm  | Calm Harm provides tasks that help you resist or manage the urge to self-harm. | Free |
| Clear Fear | Face your fear with the free Clear Fear app and learn to reduce the physical responses to threat as well as changing thoughts and behaviours and releasing emotions. | Free |
| ReachOut Worry Time | ReachOut WorryTime interrupts repetitive thinking by setting aside your worries until later, so you don't get caught up in them 24/7. | Free |
| ReachOut Breathe | ReachOut Breathe helps you reduce the physical symptoms of stress and anxiety by slowing down your breathing and your heart rate with your iPhone. | Free |
| Smiling Mind | Smiling Mind is a meditation app for young people. Mindfulness meditation has been shown to help manage stress, resilience, anxiety and depression. | Free |
| WellMind | WellMind is designed to help you with stress, anxiety and depression. The app includes advice, tips and tools to improve your mental health and boost your wellbeing. | Free |
---
More resources coming soon