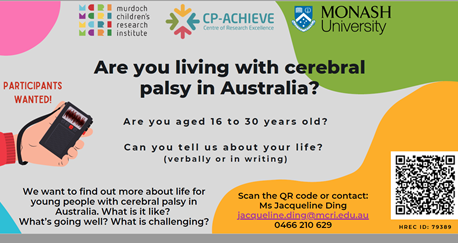 Research recruitment: Seeking people with cerebral palsy aged between 16-30years
Are you a young person with cerebral palsy, aged between 16 to 30 years? Do you want to make a difference and have your experiences heard? If so, we would love to hear from you!  ⁠
We know very little about the experiences, perceptions, and needs of individuals with CP as they transition towards and through young adulthood in Australia. This research project aims to recruit people with lived experience of CP, and a willingness to share those unique insights with us! Your insights will help to develop supports for young adults with CP.
To find out more about the project or how to get involved, please see the recruitment flyer attached. You can express your interest by filling out the EOI survey HERE (takes less than 2 minutes!) or contact Jackie Ding via jacqueline.ding@mcri.edu.au or on 0466 210 629.
Download and share the flyer here